Woodstock Precision Machining Gorbel Easy Arm Crane
Product
Overhead Crane, Workstation Crane, Jib Crane
Function
Improve safety and workflow / efficiency
Work related musculoskeletal disorders or repetitive strain injuries are one of the most commonly cited WSIB claims.
In 2020 alone, this type of injury accounted for 38% of all claims. With shoulder and lower back injuries accounting for a combined 16% of all high impact claims.
Woodstock Precision Machining (WPM) is a single source provider of complete manufacturing solutions headquartered in Woodstock. They provide laser cutting, Blanchard grinding and CNC metal forming and machining services to manufacturing partners throughout Ontario. In order to take a proactive approach to safety, WPM has a long standing partnership with Liftsafe Engineering and Service Group that allows them to incorporate systems thinking into their overall production and safety planning. Recently, WPM worked with Liftsafe to come up with a safe and efficient solution to loading sheets of metal onto their automated CNC machine. Liftsafe recommended a workstation bridge crane with an easy arm articulated jib crane equipped with a zero gravity feature together with a custom vacuum handling steel sheet lifter. This solution worked to eliminate repetitive lifting strains and increase productivity.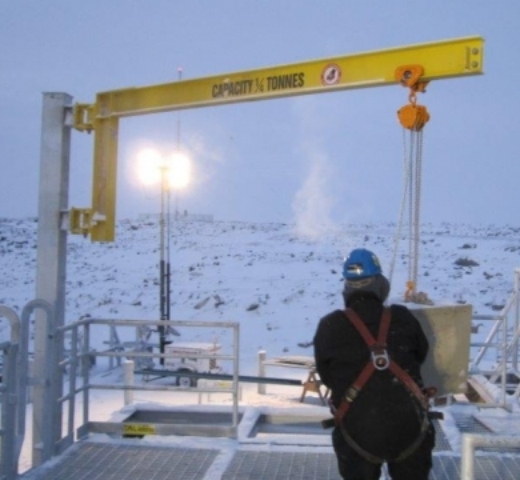 This Floor Mounted Outdoor Jib crane project was ordered for outdoor use in Artic weather and had to be designed, manufactured, installed and inspected for hash climate conditions.
View Project
We offer a huge selection of products and quick quotes for what you're looking for.
Give us a call. Our friendly customer service staff are on hand and ready to help you.