Liftsafe Engineering is a leading North American Crane manufacturer with over 25 years of experience manufacturing, installing, inspecting, and repairing crane systems. Working alongside our trusted suppliers, we combine expert service and parts to create both standard and custom systems that are not only reliable but affordable. Our systems serve a broad range of industries and are manufactured by our in-house engineering team to meet our rigorous performance and safety practices.
Liftsafe Engineering will be with you throughout every stage of your crane build as a single source for manufacturing, installation, training, aftercare and regular service. Choose from our many crane products below and learn more about Ensuring Safe Use of Cranes in your facility.

Liftsafe Engineering offers a wide variety of overhead crane systems, also known as bridge cranes. These lifting systems are manufactured with elevated parallel runways, which typically run the full length of the facility. A Hoist is then used to lift and handle the load as it travels along the span of the bridge. Our systems offer lifting support for loads ranging anywhere from 1 to 50+ tons, with custom options available in both top running and under-running cranes.

Liftsafe is a trusted provider of complete Jib Crane systems. Working alongside our reliable suppliers, we combine expert service and parts to create both standard and custom systems. Our systems offer lifting support for loads ranging anywhere from 100lbs to 30,000lbs, with custom options available. Rely on our in-house engineering, design, fabrication, and installation team to deliver from our comprehensive list of Jib Crane systems on the market.

Designed to eliminate manual lifting and enable/empower your workers to move loads from workstation to workstation. These systems are ideal for moving loads ranging anywhere from 250 to 4000lbs for along the bridge and under the runway. Our Freestanding and Ceiling-Mounted systems are readily available and offer optimal flexibility depending on your facility's capabilities.


Similar to overhead cranes (bridge cranes), Gantry Cranes are built with a runway located on the floor rather than the ceiling. Portable gantry cranes are available for light lifting and these cranes can be used both indoors and outdoors at a lower cost to overhead cranes. These cranes are ideal for applications where lifting support is required without the use of building columns or structural supports.
Hoists
Liftsafe Engineering offers a wide variety of hoists to suit your lifting and material handling needs. We offer a complete line of wire rope, pneumatic, chain and lever. Rely on our in-house engineering, design, fabrication, and installation team to deliver from our comprehensive list of hoist systems. CMAA and CSA compliant.
We can do it all
Liftsafe Engineering offers lifting systems and services for every aspect of your facility. Our specialists have the industry expertise to recommend the best system for upgrading and optimizing your space. Rely on our industry experts to do a walkthrough of your facility to find the right standard or custom lifting solution. From there our in-house engineering team will design your system to meet all regulatory standards which then gets manufactured by CWB qualified welders. Once complete our experienced installers will make sure your system is operational in your facility and our team will continue to protect your equipment for its entire life cycle with our inspection and maintenance services. From start to finish, we design, build, inspect, and maintain.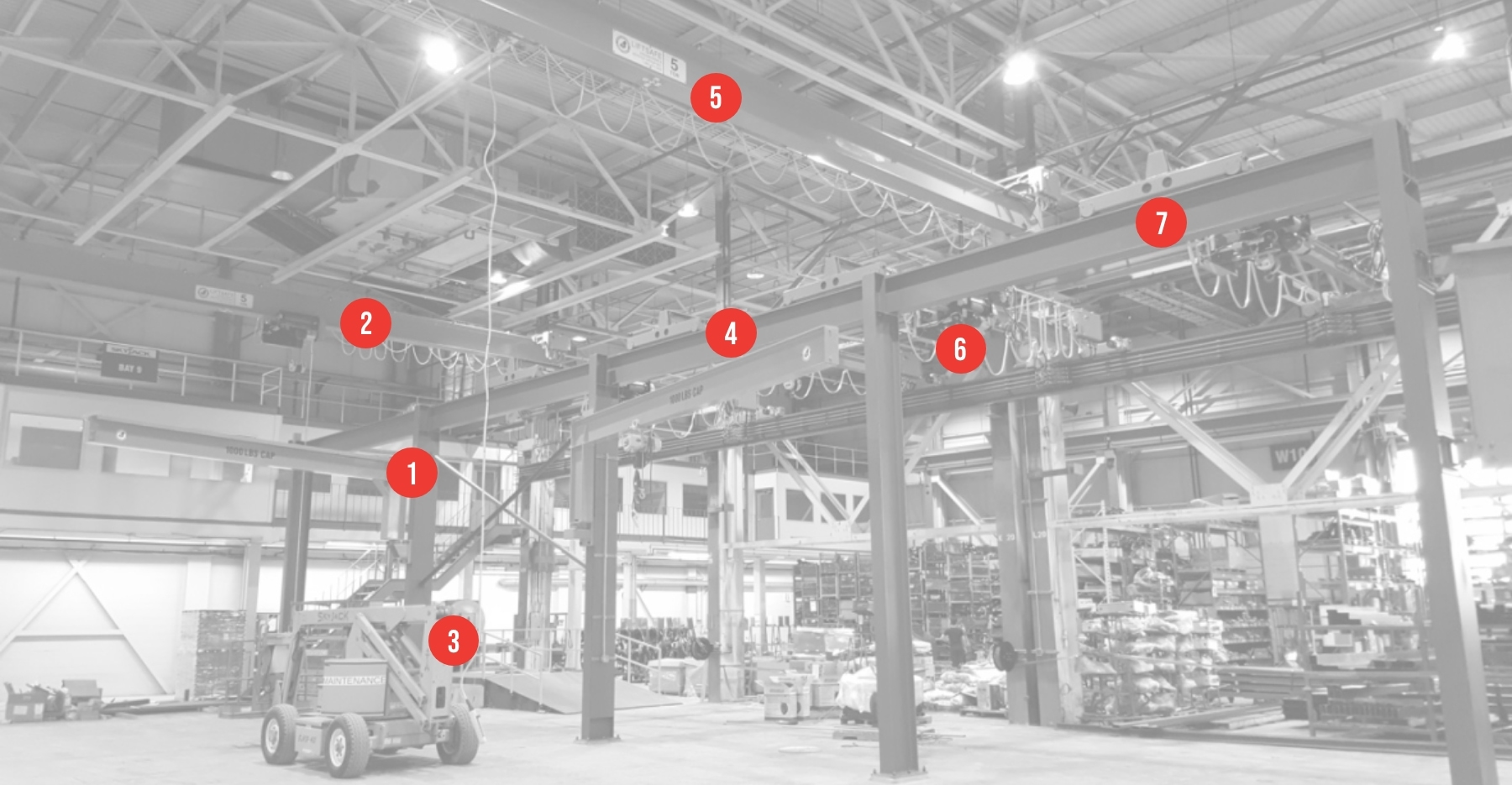 We meet all your custom product needs from start to finish. Our in-house engineering team will ensure quick sign-off on all custom orders and testing while meeting the exact specifications required for your facility.
You can expect top-of-the-line products and excellent customer service. From design to implementation, our team will walk you through the process and help you reach the best solution for your facility needs.
To request a consultation, please fill out the form attached to this page and we will reach out to book a consultation that fits into your schedule. You can also contact us directly at: info@liftsafegroup.com
A regulation for overhead cranes, gantry cranes, monorails, hoists, and jib cranes. The main purpose of CSA B167 is to provide manufacturers, end-users, workers and industry with the most current safety requirements for design, fabrication, inspection, maintenance, operation and safety training for overhead travelling lifting equipment. This standard is applicable nationwide.
Provincial and territorial safety authorities have a responsibility to support and provide industry awareness of the nationally recognized CSA safety standards. Meeting the compliance requirements in B167 is the correct way to ensure this equipment is properly inspected, maintained and operated.
Companies have a responsibility to ensure they have met compliance requirements of the most current provincial and national safety standards. End-users have a responsibility to meet compliance requirements of the most current revision of this CSA B167 standard.
Utilizing this standard as intended could easily result in a reduction in all related costs, such as in the following examples:
by reducing unnecessary breakdowns due to misuse and abuse of equipment;
by greater use of properly maintained equipment by certified trades; and
by having properly trained operators, supervisors, and health, safety and environmental protection personnel.
What our clients are saying
I was extremely happy with the service we recently received from Liftsafe. One of your technicians Lance, went above and beyond to make sure I was informed of all deficiencies throughout the entire process. The team was very professional, courteous and knowledgeable. I would strongly recommend Liftsafe!
Thank you for the detailed report summary. Also, I would like to add that I'm very impressed with your company and the service that you have provided us. Not only the onsite inspections but the access to our documentation on your Customer Portal. I look forward to our future business with you and your company.
In all the years I've been working with outside contractors, I have never experienced the level of professionalism and commitment to detail that has been provided by the Liftsafe team!
As a large manufacturer in the automotive sector having clear and organized inspections is crucial for our day to day operations. The reports offered in your G10 system allow us to keep track of all of our equipment and easily determine which repairs are required. Having these online and available immediately has made organizing inspections and repairs easy and efficient.
For the past 5 years, Liftsafe Engineering and Service Group Inc. has performed safety inspections and service on our lifting devices. Liftsafe has provided excellent service. They are dependable, knowledgeable, and cost effective. We strongly recommend Liftsafe to perform service, sales and inspections of lifting devices.
I was very happy that the Lifting Beam designed and manufactured by Liftsafe has been able to be used successfully to remove Cantilever Beams from the Darlington Candu Reactor Face as intended. This was a key piece of custom designed lifting equipment required to do this critical removal job safely and efficiently (note the proximity to the End Fittings.
Learn more about our team and what sets us apart as industry experts in fall protection, ground support and material handling industries.
Learn from the experts about all things safety within your industry. Browse our Resource Center to find case studies, articles, product catalogues and more.
Our team is committed to providing the highest level of customer service. If you didn't find the information you were looking for, please contact us.
We offer a huge selection of products and quick quotes for what you're looking for.
Give us a call. Our friendly customer service staff are on hand and ready to help you.